Maria Christina has been trading for 18 years. I first started the company after leaving my position as manageress in a salon in Bath.
I hadn't planned to start up another salon but after a few years of mobile hairdressing I had to be able to meet the demand. My client base grew quickly, wedding referrals came in and found I needed a base.
Maria Christina was originally based in the beautiful village of Box, where all the skills and techniques of a busy town/city salon could be found. I enjoyed the personal touch, giving my clients the services that are affordable with good quality products.
I took on an apprentice where I found great enjoyment in training, passing on the skill I had been taught. This is where my team began, I have trained many apprentices some of those are still with me others have moved on. They soon became busy stylists and so found the salon in Box was no longer big enough.
The next chapter starts here in Chippenham where I have been lucky enough to have found the space to offer all my skills in hair. Here my team old and new have come together, l am very proud of what has already been achieved by my team who have worked very hard.
So we would like to welcome you and hope you will enjoy our services we have to offer.
email: info@mariachristina.co.uk
telephone: 01249 465655
Meet the team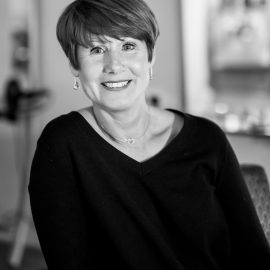 Maria
Creative Director/Owner
I have been in the industry for over 30 years as well as being very fortunate to have worked with some talented people who encouraged me to pursue my love of the industry. I have trained in many aspects of hairdressing, the latest being with Lanza, and Matt Swinney who is world renowned for his work on long hair, hair ups, inspirational work in cutting and styling as well as work that is social media friendly.  Whilst attending courses I find my love of the industry only grows, and I still  enjoy doing red carpet/wedding hair. I have had some amazing opportunities travelling with clients for their weddings so that i was on hand throughout their special day, guess that's the perks of the job.
Maria Christina is my third successful salon, I have worked many years in Germany and in different salons within the UK, This has helped me with my knowledge and in turn developed my own style of work.
Now after emerging from a difficult period for us all due the COVID 19 pandemic, some restructuring as with many small businesses has been necessary. Therefore moving forward Maria Christina will operate with a smaller team, which will enable me to function effectively and efficiently into the future.
I would like to take this opportunity to thank all of you for your loyalty and support during this time, and I look forward to sharing the next chapter with you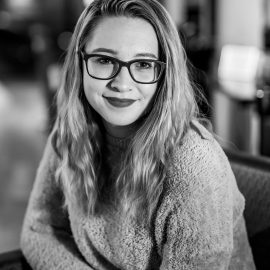 Abby
Apprentice
I started off working as a Saturday girl here at Maria Christina 2 years ago I was offered an apprenticeship by Maria and haven't looked back since.
I attend Chippenham college weekly as well as receive in salon training, which i really enjoy. I am already applying colour as well as blow drying clients. I feel really lucky to be at this level already and appreciate clients trusting me to do their hair. Since returning from lockdown my training and customer experience has increased, so therefore i have increased my client base. Colour application, one length hair cuts and many different blow-dry techniques are just some of the services i currently enjoying doing.
I look forward to meeting more clients and growing my confidence and skills.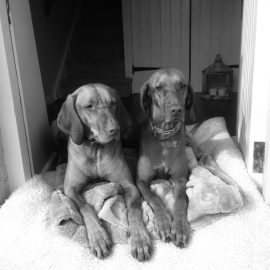 The Dogs
Receptionists
We have been coming to work with Maria Christina since I was 12 weeks old My name is Vixen and I have a sister Luna who Maria rescued from Budapest last year. The clients of Maria Christina helped to raise money for dogs like me, thank you. We are very friendly and like to meet new people.
We understand some people are nervous of dogs so please tell a member of staff and we will go and sleep in the staffroom, we have a cosy sofa to curl up on.