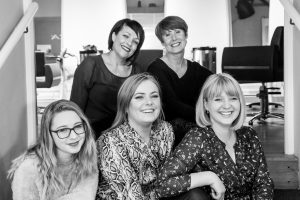 Maria Christina has been trading for 18 years. I first started the company after leaving my position as manageress in a salon in Bath.
I hadn't planned to start up another salon but after a few years of mobile hairdressing I had to be able to meet the demand. My client base grew quickly, wedding referrals came in and found I needed a base.
Maria Christina was originally based in the beautiful village of Box, where all the skills and techniques of a busy town/city salon could be found. I enjoyed the personal touch, giving my clients the services that are affordable with good quality products.
I took on an apprentice where I found great enjoyment in training, passing on the skill I had been taught. This is where my team began, I have trained many apprentices some of those are still with me others have moved on. They soon became busy stylists and so found the salon in Box was no longer big enough.
The next chapter starts here in Chippenham where I have been lucky enough to have found the space to offer all my skills in hair. Here my team old and new have come together, l am very proud of what has already been achieved by my team who have worked very hard.
So we would like to welcome you and hope you will enjoy our services we have to offer.
email: info@mariachristina.co.uk
telephone: 01249 465655
Meet the team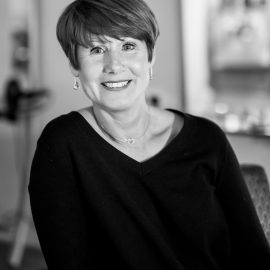 Maria
Creative Director/Owner
I have been in the industry for over 30 years as well as being very fortunate to have worked with some talented people who encouraged me to pursue my love of the industry. I have trained in many aspects of hairdressing, the latest being with Lanza and Matt Swinney  He is world renowned for his work on long hair, hair ups, inspirational work in cutting and styling as well as work that is social media friendly.  Whilst attending courses i find my love of the industry only grows and i still  enjoy doing red carpet/wedding hair. I have had some amazing opportunities travelling with clients for their weddings so that i can be on hand throughout their special day, guess this is a perks of the job.
Maria Christina Hair & Beauty is my third salon, I have worked many years in Germany and in different salons in UK, This has helped me with my knowledge and in turn developed my style of my work.
Today l have an amazing team that l believe will give you a luxury service at affordable prices as l believe each one of us deserves to feel and look good, and l hope you will come and enjoy what we have to offer.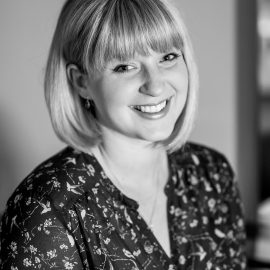 Claire
Style Director
I am a Style Director at Maria Christina – I have completed Level 1, 2 and 3 at Chippenham College whilst training with Maria Christina, I have been part of the team at Maria Christina for 9 years. I have trained in all aspects of hair which has lead me to my next qualification.
My Assessors Qualification (D32 and D33) has enabled me to train apprentices and the stylists within the salon. I enjoy teaching and also aware that in our industry you will always be learning new skill. I have trained with Wella and Lanza in both colouring and cutting and really enjoy creating new looks. I especially love hair ups from prom to bridal. .
I have a loyal clientele base but always looking to grow it especially as I'm just returning from my maternity leave. I look forward to welcoming you to experience my cutting, colouring, restyling, perming and much more.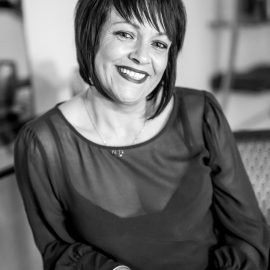 Tara
Senior Consultant
I've been a member of Maria Christina team for over a year. I have 20 years experience as a stylist, and decided to further my skills in barbering, with working locally my client base has followed me to Maria Christina. Barbering is one of my strong points I find a traditional gents trim is great however i always like the idea of tapering, fading and sharpness to give each cut its own unique look. I also love a good restyle, which involves creating texture, style and volume. Im always searching for new training and techniques so i can advance my cutting and colouring abilities. i look forward to expanding my client base further over my time as part of the team.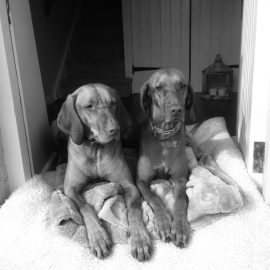 The Dogs
Receptionists
We have been coming to work with Maria Christina since I was 12 weeks old My name is Vixen and I have a sister Luna who Maria rescued from Budapest last year. The clients of Maria Christina helped to raise money for dogs like me, thank you. We are very friendly and like to meet new people.
We understand some people are nervous of dogs so please tell a member of staff and we will go and sleep in the staffroom, we have a cosy sofa to curl up on.